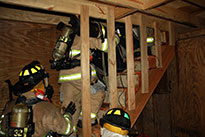 HFD Olympics: Company Competition

During the months of October, November, and December, HFD firefighters grouped by their company assignments, will be competing against each other in the 1st Annual HFD Olympics. Each company will be tested on skills they've trained on over the last 12-24 months. These skills include RIT (Rapid Intervention Team) training, air management, search/rescue, ventilation, and fire attack. Following each event (sometimes as long as 45 mins each), both the company and their members are evaluated for competency and efficiency. Click here to read more.

Fire Truck Day at the Enfield Library

The Hazardville Fire Department, along with the Shaker Pines and Enfield Fire Departments, participated in this year's Fire Truck Day at the Enfield Library. On October 7th, the public was given access to some of the fire department's front line fire apparatus, including rides on Truck 31's 95 foot aerial.


New Members:






Squad 5 Member Joe Braun. He joined in September 2012 and is a student at Enfield High School



Probationary Firefighter Tom Carriere joined the department in February 2012


HAZMAT Training
This month, departments town wide have been training on how to deal with hazardous materials (HAZMAT) incidents.Click here to read more.

Captain Hurley ran the evening drill, with Firefighter Dave Praus and Probationary Firefighter Carriere being suited up in HAZMAT suits.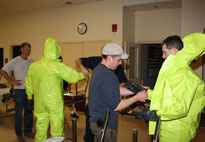 FOUR HAZARDVILLE FIREFIGHTERS RECEIVE UNIT COMMENDATION

Earlier this Summer, the Hazardville Fire Department responded to a call in the Green Manor section of the district for a car that had driven into a house, with the occupant being injured. Firefighters responding on Engine 34 arrived on scene and immediately began to administer medical care to the patient, securing the motor vehicle, and ensuring the home involved was structurally sound. Through extensive Fire/Rescue and EMS training, and displaying unit cohesiveness and professionalism, the following members of the Hazardville Fire Department helped save and prevent further long term injury to the patient:


Captain Jamie Hurley
Lieutenant Alex Martin


Firefighter
Jason Carlton


I

S SEEING YOUR HOUSE NUMBE A CHALLENGE?



With the Fall and Winter months upon us, seeing your house number is a challenge! Leaves and snow can hide your house number, delaying the response of emergency service crews. Take the time to be sure we can see your house number!

Click here for more Fire Safety Tips



BECOME A VOLUNTEER FIREIGHTER!
click on video below to learn more
wait a few seconds for video to start.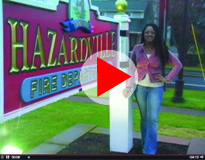 Can You
Fill These Boots?

Put Your Best Foot Forward...
Become a Volunteer Firefighter!
Click here... to find out how.

Promotions/Certifications: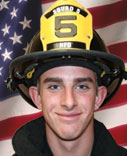 Firefighter Adam Borawski is now a regular member of the HFD, having graduated from our Squad 5 Program. In order to become a regular member, Squad 5 and Probationary firefighters under go an extensive training program that concludes with a Oral Board of Review. Adam, a full time student of Western New England College, is now assigned to Hazardville's truck company, Truck 31. Congratulations to Adam for a job well done!

Firefighter II Exam Passed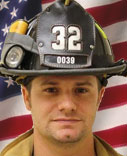 Sean Clifford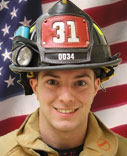 James Hubbard
Adam Krajewski
We congratulate Sean Clifford, James Hubbard, and Adam Krajewski for passing the written and practical testing for Firefighter II. Over the course of nearly 3 months of training, these firefighters became proficient in advanced firefighting techniques and working in smaller, Company sized crews. During this training, work was completed on automobile extrication, HAZMAT, Fire Control, and Building Construction.