ENGINE 34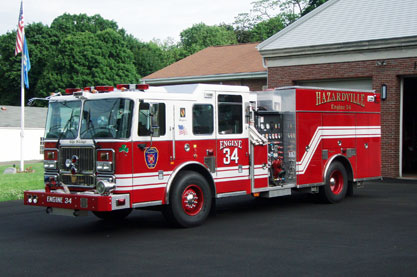 2006 Seagrave Marauder Pumper
Detroit Diesel Engine Series 60

Seating for 6

Waterous 1500 gallons per min. pump

500 gallon booster tank

Elkhart 125 gallon per min. foam system.
Holds 20 gallons of foam.

Carries:
Thermal Imaging camera

Hurst rescue equipment

Medical equipment

Hazardous Materials equipment with meters

1000 ft of large diameter hose. (LDH LDH 5" Storz connection)

10', 14', 24', ladders

The new Engine 34 design committee:
Lieutenant Jamie Hurley
Chairman of the committee
Captain John Alexander
Fighfighter Scott Tingley
Fighfighter Eric Rauschenbach
Fighfighter Pat Martin
Second Engineer Dave Praus

Engine 34 Equipment by compartment
click here to view quicktime movie.